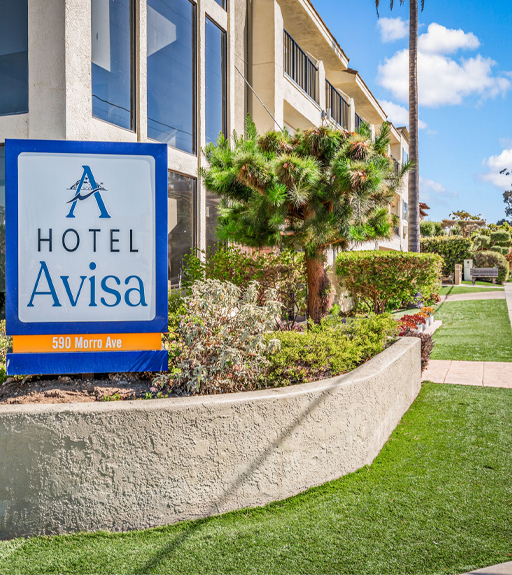 Discover your better nature with a stay at Hotel Avisa in Morro Bay, California. Located on the Central Coast between San Francisco and Los Angeles, this fishing village has much to offer its visitors. Enjoy a multitude of outdoor recreational activities from ocean-side golf to sailing to kite flying. The museum and arts scenes are thriving in Morro Bay for you to learn about the area's culture, history, and scientific significance. Explore the downtown area's antique and thrift stores to discover hidden treasures. Morro Bay also offers the freshest ocean-to-table cuisine made from locally caught seafood. Book with Hotel Avisa to experience the coastal wonder of Morro Bay.
With the perfect combination of tradition and history, Hotel Avisa provides its guests with top-notch services and amenities to ensure a spectacular stay. Our newly renovated rooms are spacious and feature modern and chic décor. What more? Many of our guestrooms overlook the Pacific Ocean for breathtaking views of the famous Morro Rock. Our property also has numerous amenities for your pleasure and convenience. Take advantage of our well-equipped fitness center, and more! Whether you are visiting for a family vacation, romantic getaway, or business trip, our comfortable hotel is a haven of hospitality.
Perfectly situated in the heart of downtown Morro Bay's Fishing Village and steps away from the seaside, Hotel Avisa provides guests with easy access to explore the surrounding area's top attractions. Head to the beach to watch fishing boats come and go, seals barking, and waves crashing against the bustling wharf. It's also an easy walk to Morro Bay's shopping district, and several first-class eateries. Jump in the car for a drive to see more of the area's top sights the Museum of Natural History, Hearst Castle, Montaña de Oro, and more. Your adventure awaits!